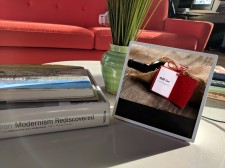 BOSTON, January 4, 2018 (Newswire.com) - Today, CorkGuru announced the launch of the CorkGuru skill for Amazon Alexa. The skill acts as your "virtual wine concierge" to recommend select wines based on advanced psychographic segmentation.
Danielle Gillespie, founder of CorkGuru, said, "We're thrilled to launch this fun and exciting way to explore the world of wine. We believe that 'safe' wine choices are boring, and we want to encourage people to drink more boldly. Not only is this a fantastic way to try a new wine based on your personality profile, it removes the anxiety of purchasing a bottle of wine for your next dinner party." 
"I'm impressed by how accessible the consumer experience is, despite sitting on top of a very sophisticated selection algorithm," said Jonathan Roberts, renowned VUX (Voice User Experience) Designer. "The Rocket Insights team continues to prove that they are the leading agency for building Voice experiences and have brought a compelling experience to Amazon Alexa. This skill for CorkGuru is great because you show up to parties with good wine and a fun little story to tell, too."
CorkGuru is the first digital wine platform 100% focused on Guest Relationship Management. Launched in 2014 as the best way for restaurants to manage their wine list and inventory, CorkGuru has since expanded with a consumer-focused iOS app that offers exclusive discounts and helps drive repeat consumers back to their favorite restaurants. The addition of the CorkGuru skill for Amazon Alexa expands the touchpoints to consumers by offering advice for wine selection and giving restaurants another channel to drive repeat guest visits and increase revenue per visit.
Boston-based development agency Rocket Insights has been developing voice applications and working with Amazon technologies since the very early days of the Alexa service. Named one of the "top app development agencies in the United States" by market research firm Clutch, Rocket Insights has developed numerous Alexa skills that have generated incredible results for clients, including Sony Pictures Television, Virgin Pulse, Say & Play Games and many others. 
Source: Rocket Insights
Share: